Anomaly Scanning Provision in Ireland: AIMS Ireland

The situation with respect to anomaly scanning in Ireland is the following: 100% of pregnant women living in Dublin are offered this diagnostic option during weeks 18-22 in Dublin maternity hospitals and only 36% are offered it in the rest of the country. The inequity is glaring. Achieving universal access to fetal anomaly scanning has, and continues to be a key priority for AIMS Ireland.
AIMS Ireland has been campaigning for equal access to anomaly scanning in Ireland for all pregnant people irrespective of where they live or their capacity to pay since 2007.
AIMS Ireland Chair Krysia Lynch stated "It was one of the key issues we discussed with Minister of Health Mary Harney in December 2007. It remains a key undressed priority 10 years later. Is no one listening?"
"AIMS Ireland also highlighted the need for universal fetal anomaly scanning in the National Maternity Strategy steering group as it was identified by women we survey as a key priority in terms of equal access to services."
"AIMS Ireland brought this up again when we were invited to address the Oireachtas Joint Health Committee on the National Maternity Strategy for Ireland in February 2017."
We have been telling the government about this and other disparities in maternity service provision for years. The fact that pregnant people living on rural areas receive fewer choices, have diminished access to diagnostic tools and sometimes to specialist personnel is unacceptable.
In terms of anomaly scans, rural based women should be prioritised as it is they and they babies who will have to make long and difficult transfers should there be an undiagnosed problem with their baby. People in Dublin will already be birthing in a tertiary referral unit should an unexpected issue arise with their baby.
Commenting further AIMS Ireland Chair Krysia Lynch said "We could have informed the strategy implementation group of the strong feeling surrounding this issue amongst service users in June 2017 when they submitted their budget plan to the Minister if we had been invited to sit on that group. We believe anomaly scans should be available to all who choose to have them in a timely manner."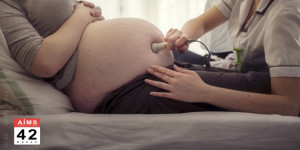 Anomaly Scans are useful in the following
1. Diagnosing conditions which may affect the continuance management and treatment of a pregnancy eg choice of care giver, frequency and location of visits, in utero surgery and medical or surgical treatment
2. Planning on how and where a baby will be born eg a tertiary referral hospital may be a better option or a team may need to be put on stand by in a children's hospital
3. Enabling parents to know in advance that there may be health issues, with their baby so that they can respond in good time in a way best for them and their family.
4. Enabling a diagnosis of fatal fetal abnormality to be known so that parents can prepare and decide how they would like the rest of their pregnancy to be managed.
Other clinically indicated scans are also helpful in diagnosing placental issues, and early scans can be helpful in identifying dates when these are uncertain.
As with all interventions it is a woman's choice whether she avails of an anomaly scan or not
We want to know what the HSE plans to do for women in rural areas now. In the intervening period before universal anomaly scanning becomes available in two years time.
How about a subvention scheme whereby the HSE pay the private providers of anomaly scans in rural areas? Because don't forget these scans ARE available if you can afford to pay irrespective of where you live.
Concluding AIMS IrelandChair Krysia Lynch said "Taking things forward, we urge the Minister of Health to resource this vital area of maternity care immediately so that all pregnant people and babies in Ireland can benefit, not just those who live in the large cities or who have the capacity to pay."
More on Scans in Ireland
Ultrasound Scans Part 1: How can a scan help you and your baby?