Our Board 2018 – 2020
MEDIA QUERIES Krysia Lynch 087 7543751
Other Support Members Fiona Mulcahy, Elaine McMahon Dossett, Leemore Blitzablau Butler and Michelle Alice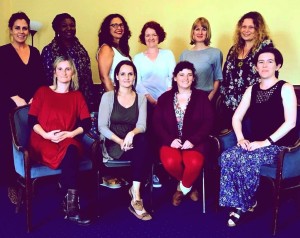 AIMS Ireland is run on a fully voluntary basis by women from all regions of Ireland; most with young families. AIMS Ireland committee members represent a wide range of birth choices and experiences, but come together under the common view of improving services.
Krysia Lynch, Chair Krysia Lynch started her working life as a researcher in environmental health and epidemiology; researching spatial variations in disease incidence and health provision. She has a PhD in Science  and for ten years worked as a lecturer and researcher in Trinity College Dublin, including being Manager of the Environmental Sciences and Environmental Health Unit. She developed an interest in community development and community health and worked as a researcher and and consultant with many women's groups both in Ireland and in the developing world. Her interest in maternity issues arose when she became pregnant with her first child in 2000. At that time she felt that there was very little information available to women on which to make informed decisions and choices. She resolved that is she ever had an opportunity she would try and ensure that women had more information and more choice in maternity care. She trained as a professional doula and birth mentor in 2003 and became the PRO of the Home Birth Association in the same year. She left her job in TCD to become a full time parent and over time trained to become a licensed homeopath specialising in pregnancy birth and children's health. She runs her own birth mentoring and doula business as well as practising as an independent research consultant in women's health. She has been volunteering in the area of maternity care since 2003, including supporting women in the postnatal period. Her research background has helped her ensure that AIMSI always offers evidenced based research to women and their families and her lecturing experience has given her the confidence to represent AIMSI in the public arena both in the media and in academic gatherings. She is married with three children and lives in Dublin
Jene HInds Kelly is a founding member of AIMS Ireland. She has acted as Chair, CoChair, Secretary, women's support officer and now works as our social media officer. Jene has a background in psychology, but has recently returned to college to study her primary love; art. Her art work is primarily focused on human rights themes and in particular the human rights of women and the need for bodily autonomy.
Aisling McCarthy became convinced that women's voices needed to be listened to more in our maternity services after having her first son in 2013. She joined the AIMS Ireland Committee at the AGM in 2015 as membership secretary and is now Treasurer. She also runs a weekly mother to mother breastfeeding group.
Emily McElarney was a journalist, but three amazing births later is now perusing a degree in TUD in Social Policy. Emily joined the AIMS committee in 2016 and runs the Support Team and is also our PRO. She also runs a mother-lead breastfeeding group in her home town of Rush, County Dublin.
AIMSI s proclamation for the birthing women of Ireland to celebrate 2016