National Maternity Strategy for Ireland – Implementation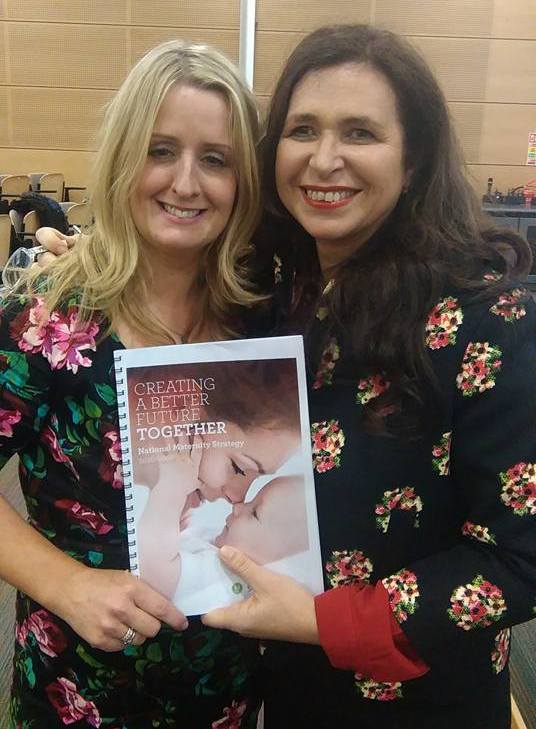 In January 2016 the National Maternity Strategy for Ireland 2016 – 2026 "Creating a better future together",was launched by the then Minister of Health Leo Varadkar. The strategy promised far reaching changes for our maternity services, and not a moment too soon, given the lack of substantial funding for infrastructure and staffing that our maternity services have endured over the last successive governments . Coupled with the problems of capital (both structural and human) were issues associated with the way care was delivered; the model of care, the safety of the care and the lack of choice associated with care provision.
AIMS Ireland were asked to participate on the steering group as the only service user group. We were able to bring to the table the experience of service users across the board, both good bad and indifferent. The NMS produced many recommendations agreed by a wide ranging interdisciplinary committee and after the launch we looked forward to the implementation process. One of the criteria was that the implementation plan would be completed within six months of the launch and that women birthing in Ireland would begin to feel the benefits of the strateegy as soon as possible.
Eighteen months on and where are we?
AIMS Ireland Chair Krysia Lynch member of the NMS Steering Committee shared her concerns with the Sunday Business Post in an OpEd on the 20th August 2017.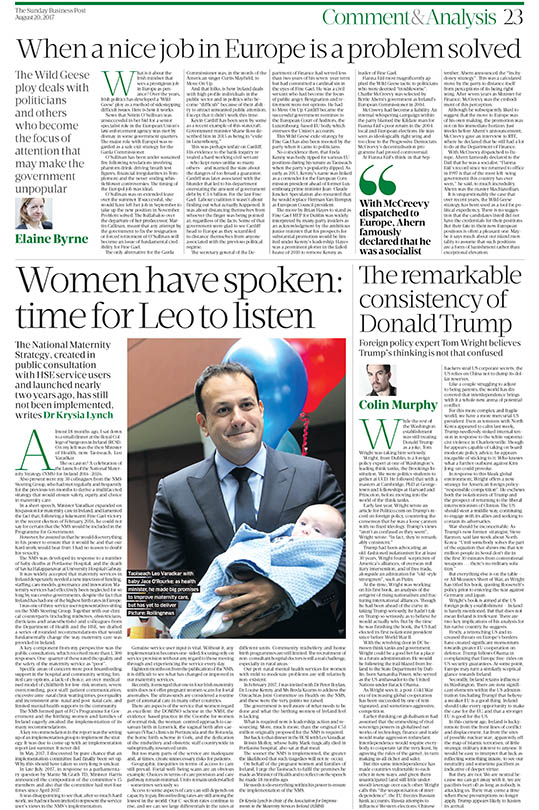 "The Almost eighteen months ago I sat down to a small dinner at the Royal College of Surgeons. On my left was the then Minister of Health, now Taoiseach, Leo Varadkar.
The occasion; a celebration of the launch of the National Maternity Strategy (NMS) for Ireland 2016-2026.
Also present were my thirty colleagues from the NMS Steering Group who had been meeting regularly and repeatedly for the last ten months to derive a multifaceted strategy that would ensure safety equity and choice in maternity care in Ireland.
In a short speech Minister Varadkar expanded on his passion for maternity care in Ireland, and lamented the fact that following a lukewarm Fine Gael victory in the recent election of Feb 2016, he could not say for certain that the NMS would be included in the Programme for Government.
However, he assured us that he would do everything in his power to ensure that it would be and that our hard work would bear fruit. I had no reason to doubt his veracity.
The NMS was developed in response to a number of baby deaths at Portlaoise Hospital, and the death of Savita Halappanavar at University Hospital Galway. I was one of three service user representatives sitting on the NMS Steering Group and together with our clinical counterparts (including midwives, obstetricians, dieticians anaesthetists), and colleagues from the Department of Health and the HSE we drafted a series of rounded recommendations that would fundamentally change the way maternity care was provided in Ireland.
A key component from my perspective was the Public Consultation which received over 1,300 respondents. One quarter of these respondents rated the quality and the safety of the maternity service as "poor".
Specific areas of concern were poor breastfeeding support in the hospital and community setting, limited care options, a lack of choice, an over-medicalised model of childbirth for low risk women, severe overcrowding, poor staff – patient communication, excessive antenatal clinic waiting times, poor quality and inconsistent antenatal and postnatal care and limited mental health supports in the community.
The NMS formed part of FG's Programme for Government and the birthing women and families of Ireland eagerly awaited the implementation of its many recommendations.
Maternity services in Ireland desperately needed a new injection of funding, staffing, care models, governance and innovation as it had effectively been neglected for so long by successive governments, despite the fact that Ireland has had one of the highest birth rates in Europe.
A key recommendation in the report was the setting up of an implementation group to implement the strategy. It was due to come up with an implementation report last summer. It never did.
In May 2017, I discovered by pure chance that an implementation committee had finally been set up. Why this should have taken so very long is unclear.
In late July 2017 in response to a written PQ by Mattie McGrath TD, Minister Harris announced the composition of the committee's 19 members and also that the committee had met four times since April 2017. It was disappointing to see that after so much hard work from AIMS Ireland, given on a completely voluntary basis, on the NMS Steering group we had not been invited to represent the service user's views in the NMSs implementation.
Genuine service user input is vital. Without it any implementation becomes one-sided, focusing only on service provision without any regard to those moving through and experiencing the service every day.
Eighteen months on with a maternity strategy implementation programme that is at best non transparent. It is difficult to see what has changed, or improved. Last week it emerged that one-in-four Irish maternity units do not offer pregnant women fetal well being scans.  The ultrasounds are considered a routine part of antenatal care in many other countries.
From our perspective at AIMS Ireland, the aspects of the service that women regard as excellent; the DOMINO scheme in the NMH, the evidence based practice in the Coombe for women of normal risk, the woman centred approach to caesarean birth in Limerick, the VBAC clinics in Portiuncula and the Rotunda, the homebirth scheme in Cork and the dedication of the midwifery and obstetric staff country-wide in sub optimally resourced units, these remain the same.
But geographic inequities in terms of access to care still prevail, (for example, with respect to foetal well-being scans), choices in terms of care provision and care pathway remain minimal, units remain understaffed, access to some aspects of care can still depends on capacity to pay, breastfeeding rates are still one of the lowest in the world, our c section rates continue to rise (and show large differentials between some units), community midwifery and homebirth programmes are still limited, the recruitment of NCHDs is still a challenge especially in rural areas, and our perinatal mental health services for women with mild to moderate pathology are still relatively non-existent.
In February 2017, I was invited with Dr. Peter Boylan, Dr Louise Kenny and Ms Breda Kearns to address the Oireachtas Joint Committee on Health on the NMS, and these were the very points we raised.
The government are therefore well aware of what needs to be done and what the birthing women of Ireland feel is lacking.
What is required now is leadership, action and resourcing. More, much more than the original €51 million originally proposed for the NMS.
Also sitting at that meal in the Royal College of Surgeons with me that evening was Roisin Molloy, whose baby Mark tragically died in Portlaoise hospital.
The sooner the NMS is implemented the greater the likelihood that such tragedies will not reoccur.
On behalf of the pregnant people and families of Ireland, I urge the Taoiseach to fulfil the promises he made as Minister of Health, to reflect on the speech he made 18 months ago, and to do everything within his power to ensure the implementation of the NMS, and to ensure that the consumer voice forms an important part of its implementation process."
AIMS Ireland had been seeking information on the progress of the National Maternity Strategy since January 2016. Everywhere we turned for information drew a blank. Women were asking us what was happening. Midwives were asking us what was happening even the occasional obstetrician asked us what was happening. We had no answers, and that was not for the want of trying. In December 2016 we heard that the Clinical Director of the Implementation Committee had been appointed. He was obstetrician Dr. Peter McKenna, recently retired from practice at the Rotunda Maternity Hospital. The post of the Director of Midwifery remained unfilled until May 2017 despite interest from some of the country's most senior midwives. We regularly emailed the HSE for five months from January until May 2017 to find out the status of the implementation programme and to voice our interest in being involved in the implementation programme.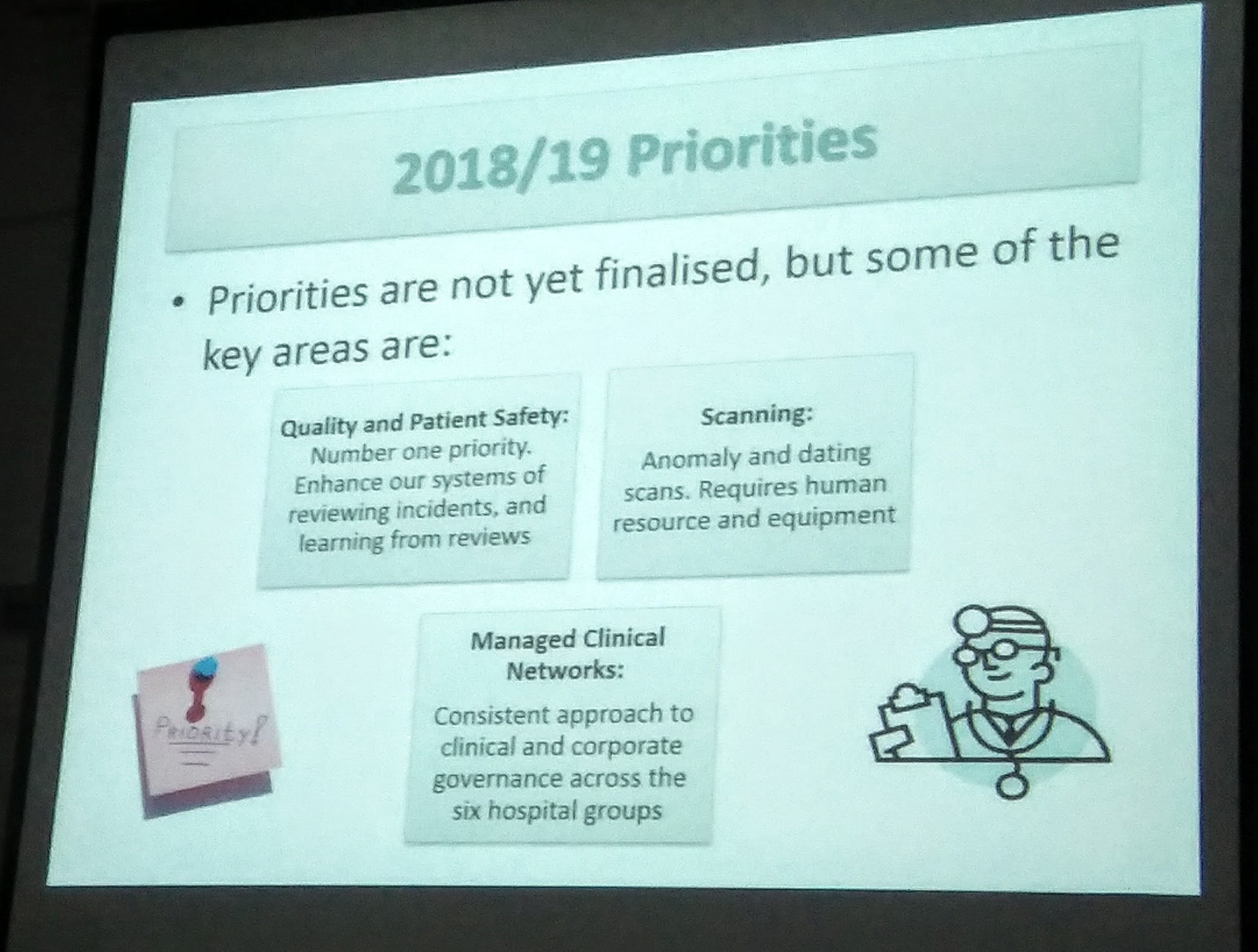 It was only by chance at the Coombe's Annual Essence of Midwifery Conference on the 3rd of May 2017 at a presentation made by Killian McGrane, National Programme Director, National Women and Infants' Health Programme at the HSE, that we realised that the Implementation Steering Committee had in fact been formed.  In the presentation there was a discussion surrounding difficulties in getting service user participation. We reminded Killian of our many emails and our offer of involvement and a meeting was arranged with Killian (Chair of the Implementation Steering Committee), Dr, Peter McKenna and Angela Dunne, the newly appointed Midwifery Director of the programme. At the meeting we again offered our help and support and enquired as to the progress to date. We were left with the impression that the Implementation Steering Committee had not yet been fully formed, and were hopeful that we might be invited to participate in some way.
In early August we read Minister Harris' response to a written PQ from Mattie McGrath TD submitted on 11th July 2017 as to the composition of the Implementation Steering Committee and its progress to date.
https://www.kildarestreet.com/wrans/?id=2017-07-11a.1112
In his response we found that the composition of the National Implementation Steering Committee to be as follows
1. Mr Kilian McGrane (Chair) National Programme Director, National Women and Infants' Health Programme;
2. Dr Peter McKenna, National Clinical Director, National Women and Infants' Health Programme;
3. Ms Angela Dunne, Director of Midwifery, National Women and Infants' Health Programme;
4. Ms Emma Bradley, Department of Health;
5. Ms Joan Regan, Department of Health;
6. Ms Sheila Surgue, HSE ONMSD Midwifery Lead;
7. Dr Peter Boylan, Chair Institute of Obstetrics & Gynaecology;
8. Ms Mary Brosnan, Director of Midwifery, NMH;
9. Ms Martina Durkan, Patient Focus;
10. Ms Brigid Doherty, Patient Focus;
11. Mr Declan Devane, Professor of Midwifery, NUIG;
12. Ms Meabh Ni Bhuinneain, Consultant Obstetrician, UHM;
13. Ms Colette Cowan, Group CEO, UL Hospital Group;
14. Mr Pat O'Dowd, HSE Assistant National Director, Primary Care; and
15. Ms. Angela Fitzgerald, HSE Assistant National Director, AHD.
Of prime interest to us was that we were obviously not part of the committee and that a service user group who had supported parents with horrific experiences at Port laoise and Portuncula had two representatives sitting on it. It is unclear why that should be the case. We feel that we could have brought a lot in terms of our contact with service users. Not just the service users with poor experiences, but also the many service users we work with that have had such positive experiences. Political expediency works in many ways, and we certainly hope that the two service user representatives will liaise with all service users, and also continue to highlight issues of grave concern.
Minister Harris' response also revealed that the Implementation Steering Committee had met four times since May which was another surprise to us.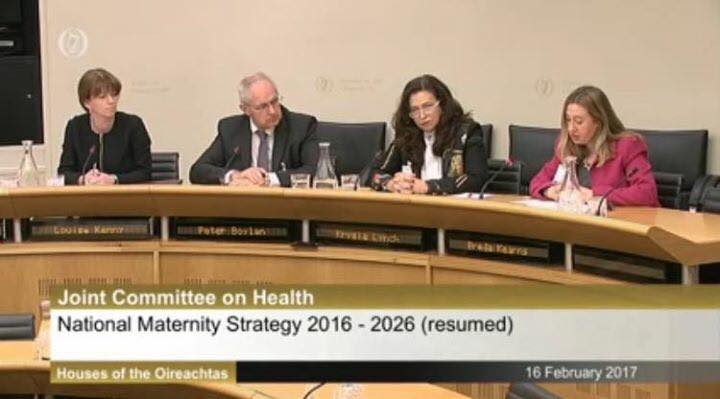 Having been fuly removed from the implentation process, our role with respect to the NMS for Ireland will be to evaluate whether it delivers its promises for the women and families we work with. Key parameters for us will be
Geographic equity in service provision
Increased choice in service provision
Implementation of the three pathways of care in all parts of the country
Improvements in clinical outcomes
Improvements in perinatal care for mild to moderate perinatal health issues as well as for moderate to severe issues
Improvement in breastfeeding rates and experiences in the immediate postnatal period
Effective capital investment and human resources investment
Regular audit and evaluation of services to include the view of service users
The acknowledgement and improved practice of informed consent and informed refusal by service users
Improved governance and management of maternity services
These issues were already raised buy AIMS Ireland when we were asked to address the Oireachtas Joint Health Committee on the National Maternity Strategy in February 2017