Volunteers Required for Support Roles in AIMS Ireland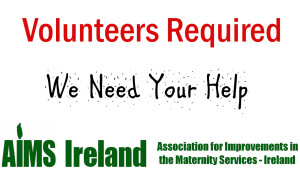 AIMS Ireland are now seeking volunteers to assist us with personal enquiries incoming daily. These enquiries are sensitive in nature and it is a fundamental understanding that each case must be treated with utmost confidentiality, compassion and respect.
The job descriptions for the roles which need to be filled are provided below:
The protection of privacy for each person who contacts us, is paramount!  We, in AIMS Ireland, always put women and their families first. Their trust in us as an organisation must never be compromised. Thus, if chosen for one of the advertised roles, it will be obligatory to read and sign the Volunteer Confidentiality Non-Disclosure Agreement.
If either of these positions is one in which you are interested, we would love to hear from you. You can apply to secretary@aimsireland.com with the name of the specific Volunteer role in the subject bar.
We will be conducting an interview process, and these roles must be filled by 1st September 2017.
We look forward to hearing from you,
From all the AIMS Ireland Committee.