AIMS Ireland : Aras an Uachtarain National Breastfeeding Week
AIMS Ireland were delighted to be invited by Sabina Higgins to celebrate National Breastfeeding week at Aras an Uachtarain and also for our Chair Dr. Krysia Lynch to be offered the opportunity to speak about breastfeeding in the continuum of maternity care. Five breastfeeding mothers associated with AIMS Ireland's services were invited to attend along with their nurslings! It was a wonderful morning in great company and we would like to express our thanks to Sabina Higgins for including us and for her support for breastfeeding and women's  rights in Ireland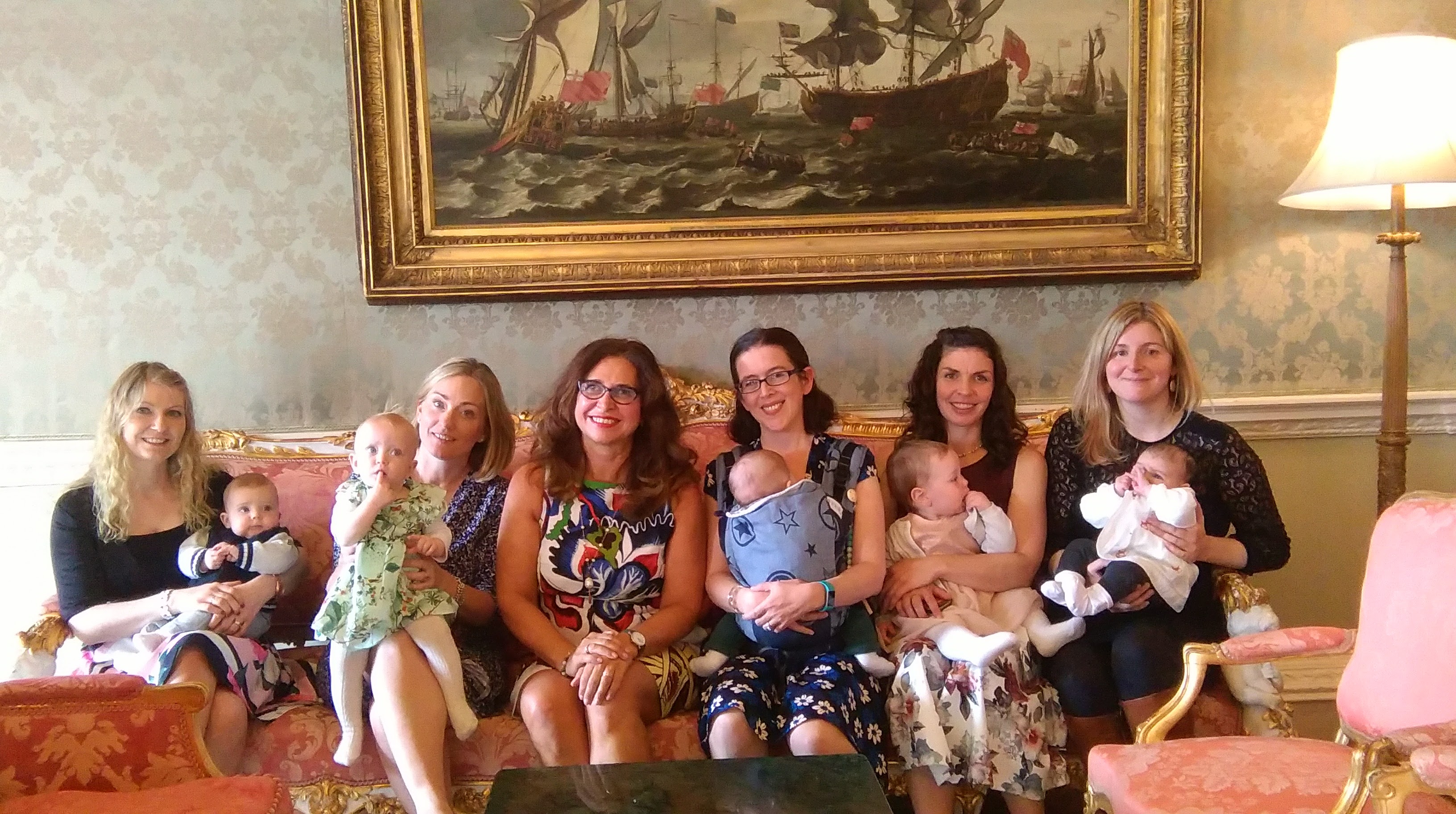 Ireland is incredibly lucky to have our "first lady" being so publicly supportive of breastfeeding and so ready to bring National Breastfeeding Week. into the Aras. In her passionate speech Sabina showed the audience a photograph of her breastfeeding her twins, which had apparently been published on the front page of the Irish Press!
AIMS Chair Krysia Lynch's speech:
"Thank you for enabling me to speak on behalf of AIMS Ireland; The Association for the Improvements in the Maternity Services. This year in 2017 AIMS Ireland is celebrating its 10th year in supporting maternity service users in Ireland and to date we have supported many thousands of women, their babies and their families.
We support women in every aspect of maternity care, and breastfeeding is no exception.
Breastfeeding is part of the continuum of conception, pregnancy and birth. It completes the cycle of childbirth and is the first act a healthy newborn baby is primed to perform. Breastfeeding matters. It matters to women, it matters to babies, it matters to the health of the society we are creating and to our sustainability.
Thoughts, opinions and attitudes about breastfeeding start a long time before a woman becomes pregnant. However, when she enters the maternity services she needs to be made aware of what breastfeeding has to offer her future health and the health of her baby. We owe all women who birth in Ireland and the babies they birth this. If a pregnant person makes an informed choice to breastfeed then she deserves the best available support to do so.
Whilst many mothers breastfeed easily, this is not the case for all mothers. Our increasingly medicalised birthing system with its high induction rate and chemical and physical interventions can inadvertently add challenges in both initiating and continuing breastfeeding and this may mean women need extra support and assistance.
Are women receiving this?
In all of our surveys of Maternity Service users in Ireland, breastfeeding support in our maternity services features prominently.
In 2015 1 out of 4 respondents in our 3,000 user survey highlighted the disappointment they felt with the support they received in their desire to initiate and continue breastfeeding.
We have to do better.
We have the knowledge, we have the passion, we have the skills, what we need is political will and adequate resourcing.
In February of this year AIMS Ireland were invited to address the Oireachtas Joint Health Committee on the National Maternity Strategy. One of our key points was the need to focus on improving and resourcing for breastfeeding support in our maternity services.
Breastfeeding is a wonderful tailor made gift that a mother can give to her baby (or babies!). Within the gift is a unique immunological mix designed just for that baby, and also with continued feeding comes protection against many childhood illness and chronic conditions in later life.
Breastfeeding ensures the propagation of the microbiome and perhaps most important of all, the very act of breastfeeding can encourage bonding, belonging and emotional wellbeing.
In short breastfeeding makes us all healthier; as babies, as parents, as a community and as a nation.
The National Maternity Strategy was entitled "Creating a better future together". Let's do that then. Let's make the investment. Let's make the commitment and let's get Ireland breastfeeding!
Thank you"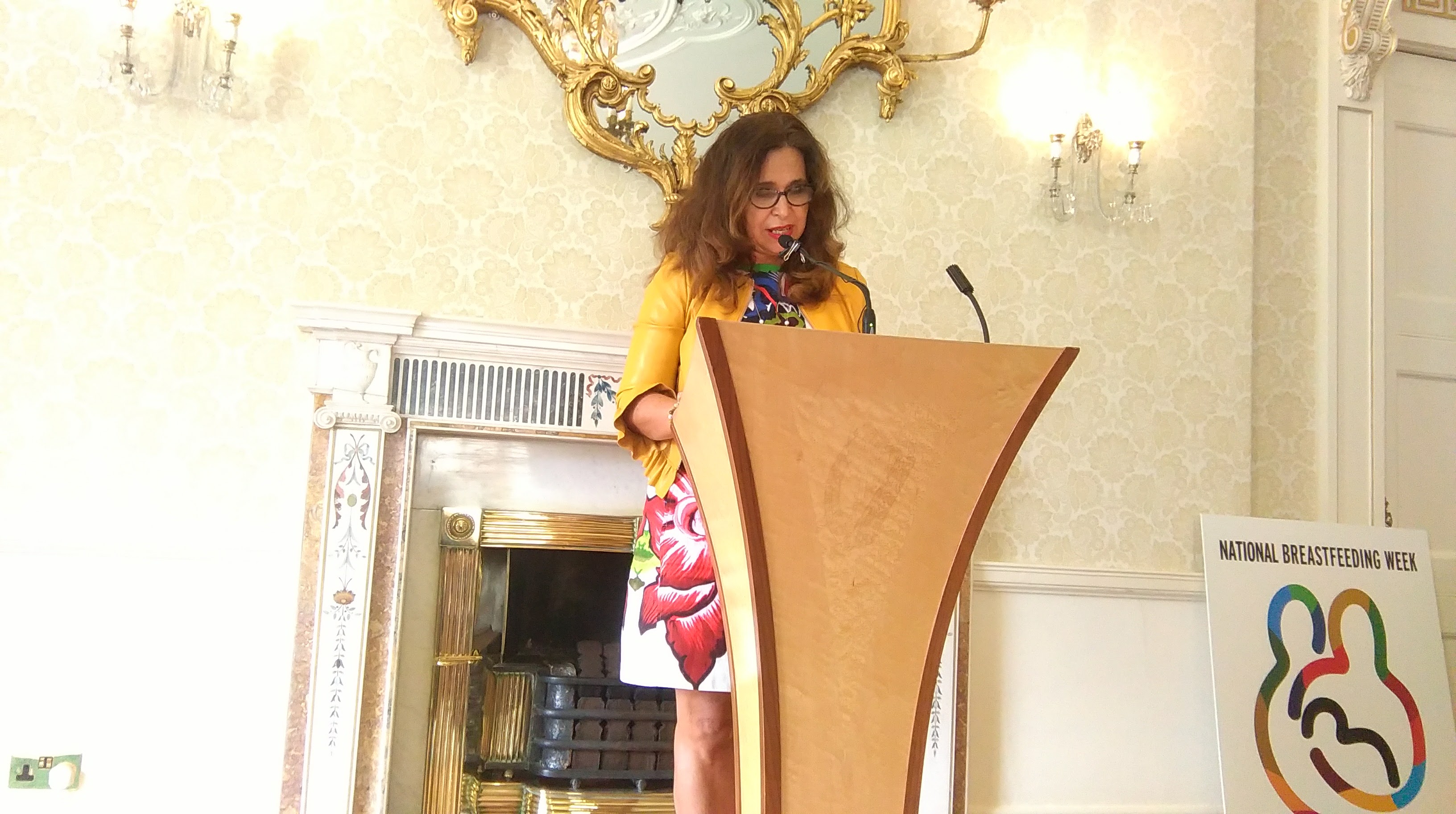 In addition to speeches from La Leche League, The NMBI, Cuidiu, The Association of Lactation Consultants of IReland, The BFHI, The HSE and Friends of Breastfeeding, The President Michael D Higgins also gave a small speech saying that he hoped that mothers and babies would always be welcome at the Aras and also stressing the importance of women's rights.
http://www.president.ie/en/diary/details/president-and-sabina-host-a-latching-on-morning-as-part-of-national-breastf
#NBW2017